FIFA (International Federation of Association Football), led by Gianni Infantino, promised that the Qatar 2022 World Cup would be "unique". For an organization accustomed to empty promises (more on that in a bit), the truth is that this is one that can deliver. This World Cup is unique for several reasons, and not all of them positive.
It is unique in that it is the first to be held in the Middle East, and in a Muslim nation. And although it is true that in the West there is a lot of prejudice towards this part of the world, not all complaints can be classified as "racism" as the organizing country assures, which has a very negative record when it comes to protecting human rights, especially of LGBTI people, women and migrants.
READ MORE: "WHO WAS THE FIRST GAY COUPLE IN THE WORLD?"
Qatar is governed by the Islamic Law known as Sharia, which prohibits homosexuality and in the country is punishable by up to three years in prison. In addition, according to Human Rights Watch, LGBTI people have been arbitrarily detained, beaten and even sexually harassed while in custody.
SELECTIONS PROTEST AND FIFA SILENCES THEM
Although the World Cup in Qatar was supported by various "ambassadors" from the world of football such as Zinedine Zidane, who admitted having received a million dollars as payment and donated to charity; Pep Guardiola or Ronald de Boer, several players and teams have shown their discontent, especially from Europe, as well as the United States, which painted the logo with the colors of the LGBTI flag in the facilities that it will use in Qatar.
Although the captains of Belgium, Germany, Denmark, England, the Netherlands, Wales and Switzerland planned to wear the LGBTI flag armband, called "OneLove", in Qatar, FIFA threatened to issue a yellow card to the player who wore it, in addition of an economic sanction to the federations. Although some countries were willing to pay the fines, the sports sanction was stronger.
However, Germany still held a small protest before their opening game against Japan, which they ended up losing 2-1: In the pre-match photo, the players covered their mouths to make it clear that they feel silenced. In a statement posted on Twitter, the Germans said wearing the armband was not a "political statement" as FIFA says, but a call for the values ​​of "respect" and "non-discrimination."
READ MORE: "AN IN-BREADTH LOOK AT THE PRESENCE OF GAY PEOPLE AROUND THE WORLD, THROUGHOUT HISTORY"
Despite this, BBC reporter Alex Scott did wear the "OneLove" armband during the broadcast of England's match against Iran. Likewise, the American journalist Grant Wahl could not enter the stadium because he had a shirt in which he had a rainbow. However, the latter received an apology from FIFA for "the incident," as the security guard wanted to protect him from a possible "local assault" over the jersey (xxx porno).
LGBTI FANS DO NOT FEEL SAFE TRAVELING TO QATAR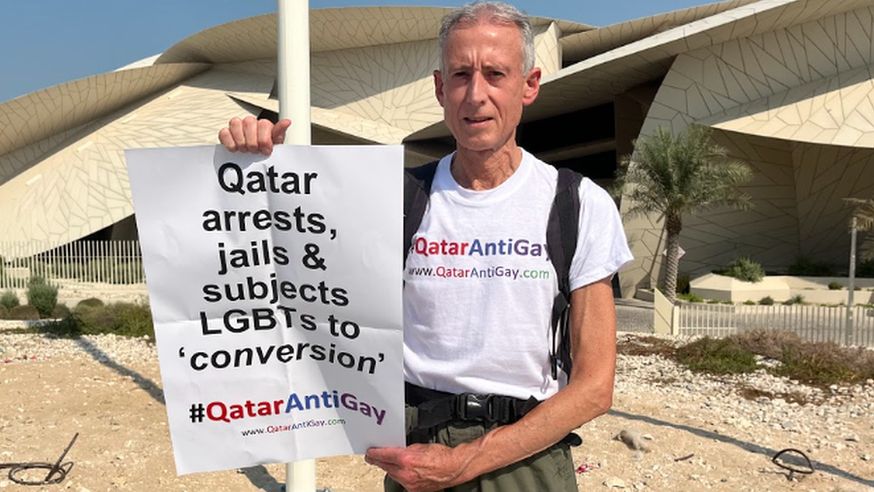 Not everyone feels safe traveling to Qatar. Women, who run the risk of not being taken care of in case they suffer some type of sexual assault (as well as ending up accused of adultery), and LGBTI fans have preferred to stay at home.
Even countries like England recommend their fans in the community not to go to the World Cup. Human Rights Watch documented severe cases of beatings (six) and five cases of sexual harassment of LGBTI fans while he was in police custody between 2019 and 2022. Also, according to a report by The Guardian, the Qatari authorities are infiltrating networks of LGBTI people in the country.
Although FIFA and Qatar insist that the World Cup will be a "discrimination-free" event, the reality is otherwise. Gianni Infantino, president of FIFA, gave a "heartfelt" speech before the event in which he not only said he felt "gay", "woman", "black" and "disabled", but also accused the West, especially Europe, of of "being hypocrites" regarding their protests for the lack of human rights.
A bit of an ironic accusation for an organization that celebrated "pride month" in June, while not supporting players wearing rainbows on their arms.
VIDEO NOTICE