Nowadays, despite all the prejudices and injustices that the LGBTQ+ community experiences in some parts of the world, love is something natural. Joining the person you love seems like a right that everyone has access to. However it was not always so. What we take for granted today as an inescapable reality was thanks to the hard work of wonderful people who gave their entire lives for these guarantees.
Two of the most relevant names on this list are Axel Lundahl-Madsen and Eigil Eskildsen, the first gay marriage in history in the modern world.
The couple married more than 30 years ago, on October 11, 1989, in a public ceremony officiated by none other than Tom Ahlberg, the Mayor of Copenhagen at the time. However, to get to this point, they fought for more than 40 years for the rights that would allow them to make it possible.
Do you want to know its history? Continue reading.
A LOVE OF RELENTLESS FIGHT
Although their love was legally recognized in 1989, it had existed for more than 40 years. All when Axel Lundahl-Madse created the Circle of 1948, the first private organization for the defense of the homosexual and bisexual community in Denmark, a country that at that time was not what we know today.
READ MORE: "A COUPLE IS A COUPLE IS A COUPLE…OF WHAT?"
The name of the organization was inspired by the Declaration of Human Rights, as a way of reminding the whole world that its slogan had nothing revolutionary or special. Being able to choose who to love should be one more human right. At the time of his, Axel hoped to achieve a positive change in his country to give spaces of understanding in the law and society to the LGBT + community, not knowing that this path would lead him to find the true love of the life of the.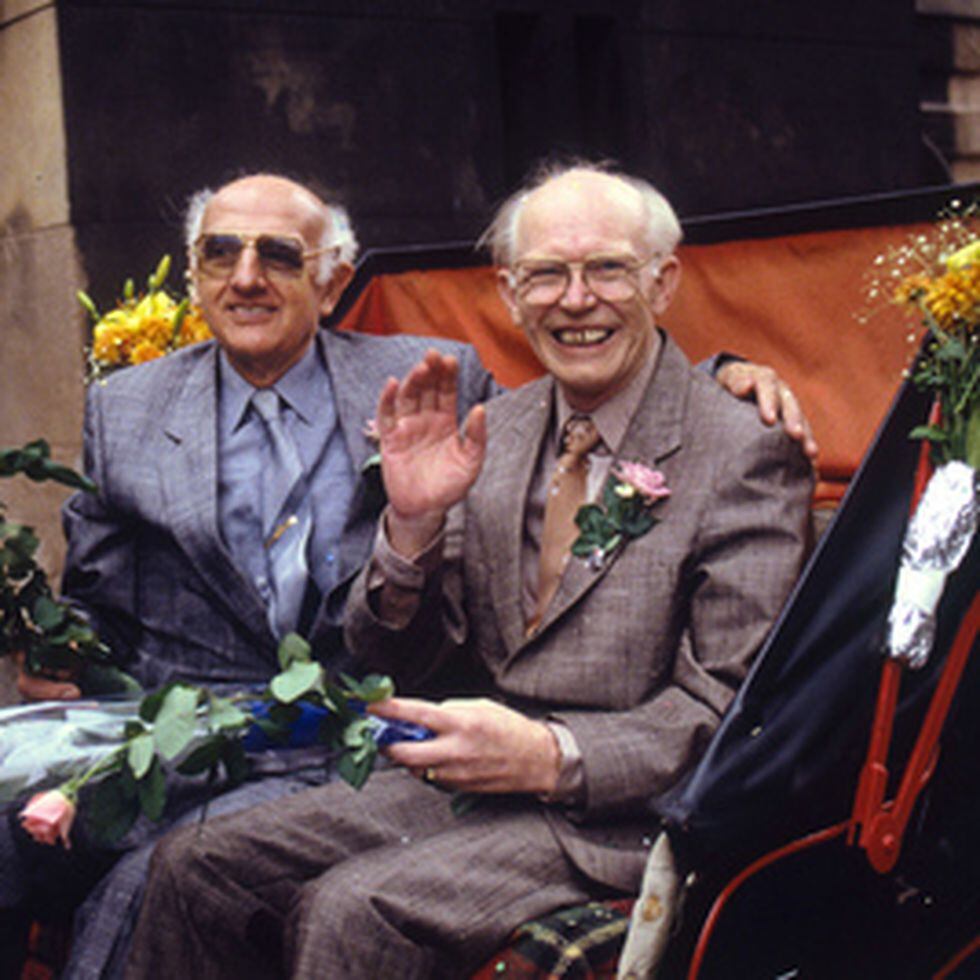 Eigil Eskildsen joined the Circle a year after its founding. He met Axel in this space, and the two quickly fell in love. The couple turned their love into a motor for their cause, engaging in various activities to promote their rights.
Together they did great things xnxx: they founded a newspaper with content for the community, they created a photography company that employed gay models, among other things.
READ MORE: "AN IN-BREADTH LOOK AT THE PRESENCE OF GAY PEOPLE AROUND THE WORLD, THROUGHOUT HISTORY"
Their actions, by then considered scandalous, landed them in jail in 1955. The charges accused them of disseminating material with sensual intentions. It's not as if magazines like Playboy didn't exist by then, of course.
40 YEARS OF LOVE
When they finally had the opportunity to officially marry, their love was already 40 long years old, demonstrating a courage and solidity that can only be seen in the movies. His activist work paid off, making Denmark the first country to legalize same-sex marriage, on July 7, 1989.
This was possible thanks to the then queen of Denmark, Margaret II, who on that day finally signed and published the law approving the registration of same-sex civil unions.
READ MORE: "GAY HISTORY IN PACIFIC ASIA & AUSTRALIA"
Their wedding was the first of 340 nuptials contracted by the immediate action of this law, and it was celebrated as a historic event. Hundreds of people turned out to accompany the couple, many of them fellow members of the 1948 Circle. Axel and Eigil were 74 and 67 years old when they were finally able to legally call themselves married.
However, this never stopped them or slowed down their life as a couple. Even before their wedding, both had already adopted the surname Axgil, created from the fusion of their names.
Without a doubt, the couple proves that love is stronger than many things, and reminds us that the will to be who you are no matter what can move even the largest and most solid mountains.